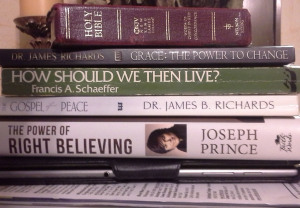 I just finished reading a recent post by Paul Ellis  (Escape to Reality)  in which he stated, "The Holy Spirit's conviction has nothing to do with your sin and everything to do with God's grace.  It's not about the bad thing you've done but the good things he wants to do in you right now.
So well said.  I hear the heart of the Father.  It's His heart that inspires me to change because I know He believes in me.  I am free to be who I am and the Holy Spirit helps me to more clearly see who I am.  Instead of trying to be something, I am receiving what I already am.
He is whispering words that set me free:
You are beautiful
Loved by a King
There is not spot on you
You are my bride
I am with you
I have put my laws in your heart
I am your shepherd leading you
I am your guard defending you
You are a new creation
You really can't receive instruction from someone who doesn't believe in you.  Have you ever had a conversation with someone who points out your past behaviors and defines you by them.  There is no motivation when someone throws labels at you.  It is as if they are helping you stay as you are.
However, words of life offer a bridge we can walk upon because they are backed by faith.  When Jesus told Peter to step out onto the water, He spoke with confidence that Peter would and could do this.  By faith Peter connected to the heart of the Father toward him in that moment.
My prayer is that I receive those words of life being spoken to me throughout the day.  In turn I will be speaking those words of life to my children.  Words of life have the ability to ignite a spark in their heart and to remind them of their identity.  Resting in who I am and trusting in the work of the Holy Spirit in them brings amazing fruit.