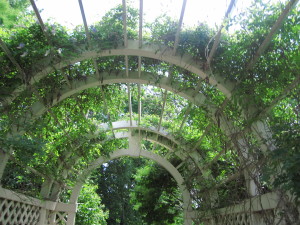 I am first a child of God.  I can say I spend my time married, parenting, and working an ordinary job.  I really enjoy writing, reading about the grace filled life, swimming, biking, walking, natural foods, planting flower containers, artsy things, coffee shops, learning way too much on the internet, analyzing, perfecting and then coming back to simplicity, my place of refuge.
My life changed radically over 20 years ago when Jesus found me!  I did not clean up my act and impress Him!  He showed me His love and I accepted His invitation.  That was amazing and my life transformed effortlessly.
However, as time passed, somewhere in the mix I accepted some heavy weights of obligation.  My life didn't measure up.  I dealt with depression and physical fatigue.  Yes nutrition and exercise helped, but a deeper root was a works attitude and performance based Christianity.  I was trying very hard to cover all the bases to be blessed.  Praying, reading the Bible, witnessing, doing good, serving, being a good wife, mother, searching my heart for sin.
Trying is tiring.
It is so different to live out of your heart and to find joy in God's kingdom instead of obligation.
At some point I read "Grace Walk" by Steve McVey and "Grace the Power to Change" by Dr. James Richards.
I pulled back from things I had done by compulsion and continued to renew my mind with what Jesus had already done for me.   I found that I enjoyed people more.  My energy returned. I learned to walk with God through life and rest in His ability.
I am still learning!
My passion is to also see others experience freedom and flourish as they find their true and brilliant selves in the heart of God. I want to continually become more aware of spiritual realities and to receive and communicate those things that Jesus freely gives us.
If you are tired of limitations but are ready to exchange some of your ideas and beliefs for the thoughts and opinions of God, please join me on this journey.  If you are open or even slightly curious, we can explore and receive abundantly together.
~Kim