A heavenly marriage begins in the heart.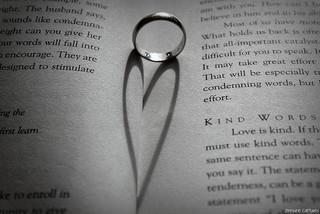 It's time to let our spouses off the hook and to let His forgiveness run deeper.   We may be totally incapable of this on our own.  We may agree mentally but our emotions may be bound in a knot, wrapped up around past disappointments.  It can seem that there's just too much that has happened to pull the rug out from under us and the only relief is to somehow control the situation.   If only the relationship could be different.   Yet we are so trapped in anger and hurt that we repel the very restoration we seek.
It's time to be cut free from the snare, it's time to have real hope, it's time to trade control for trust.
Father please help us to rediscover oneness with Christ because He who unites himself with God is one with Him in spirit.   In you we are complete.   No person completes us.  Two halves do not make a whole.
Halves only become whole in you.
Two wholes make a healthy marriage.
So we let your love embrace us, fill us, heal our wounds.  We let your love repair the places long devastated.   You exchange our deferred and delayed hopes for fulfilled desires.  Fulfillment happens in our hearts first.
We believe that we are special to you, treasured, the apple of your eye.  We allow your perfect love to cast out fear, for fear has to do with punishment and he who fears is not made perfect in love.  You long for us to receive your perfect love.  You took our punishment –all of it- on the cross.   We acknowledge that you have set us free from the curse.
Your word declares, "Christ has redeemed us from the curse of the law, having become a curse for us."
You died as a curse to remove us from the curse of the law.  God is not punishing us.   Your covenant of peace lasts forever.  There is no stain on us.  There is nothing separating us from your love.
All we need to do to receive this is believe. We release ourselves right now from any punishing thoughts we have had.  We acknowledge that all our sins past, present and future have been and will be forgiven.  We enthrone the perfect sacrifice.
We examine ourselves to see if we are in Christ – which simply means we are trusting in your work on the cross rather than fearing that we are not worthy?  All that you endured on the cross was to make us worthy.  Our weakness is not greater than your victory.
 As comforting as it is to feel loved by our spouse, our deepest comfort is in the One who will never fail us.  You have promised "I will never leave or forsake you."  The Lord is my helper of whom shall I be afraid?
We choose to write a new equation on our heart.  Jesus + me = my dreams.  We are willing to remove any other variables.   Our dreams are not hindered by our spouse, our wayward child our weakness, etc. unless we allow these factors to enter the equation in our minds.  They are not obstacles unless we believe they are.  We remember that your thoughts are higher than our thoughts as high as the heavens are above the earth.
Your blessing still flows upon us.  Your promises are still true.  For you declared that ALL your promises are yes and amen in Christ.  This means it's not possible for our spouse to disqualify us or our finances, our education or place in life.
We let you breathe fresh hope into us.  We nurture that seed you place in our heart; that still small voice that speaks your promise.  We use our energy to rest in you.   We let your love sustain us.
Now we see that You are for us. We see that you know the desires of our heart and you are actually leading us on a path where they will be fulfilled-  right in the midst of our imperfection , our mess, – right in the middle of everything seeming upside down.  As we trust that you are the Way the truth and the life and that in you we live and move and have our being – we find rest and we live in your light burden and easy yoke.  We agree that your favor rests on our life because no longer are we treated as a slave- now we are a son or daughter of God.  No more are we treated as our sins deserve but now we are hidden in Christ and we inherit the benefits of His perfectly lived life.
Oneness in Christ
Oneness in Christ
We pray a real awareness that you are the vine and we are the branches.  Your life will flow in us as we let go of anger, worry fear and false responsibility.  We relinquish all trust in our own efforts.  We cannot be good enough sheep to earn what you freely give us by your spirit.  Your ability to Shepherd us trumps any of our weakness as a sheep.
We trust in you as the Shepherd of our marriages of our soul of our dreams.
We enthrone you as the Good Shepherd.  You are not a man that you would lie.
We embrace your Word to us in our heart.
"Never will I leave you and never will I forsake you."
We let go and embrace you.