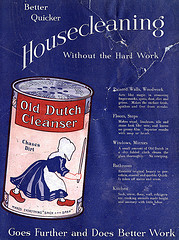 This one is risky for me.  A clean and organized dwelling space?   DARE I believe in a castle that represents a beautiful, organized place of refuge.  As one who has always loved ordered, creative, and artistic surroundings.  I don't know why I ended up with a home so often representing a war zone on this ideal.  Perhaps three children and a dog, a modest home with a high amount of living creatures per square foot and a rainfall of plentiful dust (despite expensive duct cleaning) have something to do with my plight. Time to look upward! Yes, to my clean castle in the sky.  When I remember that He meets my needs according to His riches and glory, I begin to find a place where my heart can surrender and be able to receive.  There is beauty even in a messy house.  He can change my eyesight to see beauty and experience rest instead of that overwhelmed feeling that leads me to want to blame, badger, and bring others into my misery.
I think of Jesus with the "sinful woman".  How He explained that "only one thing is needed", that Mary had chosen that which was better and it would not be taken away.  I have always wanted to be Mary but found myself postponing those moments of "luxury" at His feet.  I would rationalize that I would do that "when I catch up".   Just need to… read the emails, help the kids, mop the floor, put away the paperwork, do this, do that.  It never ends.
A wise mentor once told me
your house needs to be your servant; you are not the servant of the home
Hmm.
Overwhelmed Me sits down and starts looking over those promises I find.  He will add these things to me as I seek His righteousness first.  It is His pleasure to give me His kingdom.  He who clothes the lilies, how much better will He cloth me?  He blesses the home of the righteous.  I am the righteousness of God in Christ.
Soon time passes.  I can't believe I spent that much time that I could have spent cleaning and working, but I am refreshed. My heart is full and the rest of the day pieces together so easily.  I am more productive than usual.   I find myself enjoying cleaning and organizing, but more importantly I am not driven.  I don't need my home to be clean or attractive to feel better about me, to validate me.  My source is Jesus.
On the radio this week, an author was discussing how women generally struggle with control.  Sometimes we have a certain ideal in our heart and we try to control others and try to control our environment.  We want it all as we see it should be.  Yet we become enslaved to the ideal.  We are not really free.
It is so easy to hold on to these ideals because they seem so honorable.  We create expectations based on what we think others would expect.  We want to be accepted.  Our identity gets intertwined with this ideal.  But what happens when the floor falls out and we can no longer maintain the ideal?
This would be the perfect time to build that castle in the sky with the help of the master carpenter, artist, gardener, and Shepherd of your soul.  You can exchange your disappointment for contentment, your anxiety for real rest and hope.   You have that dream home you imagine and as your heart rests you actually experience what it's like to live in it.  When you realize you have it, you truly do.
Remember, Just Receive.
Take delight in the LORD, and he will give you the desires of your heart Psalm 37:4