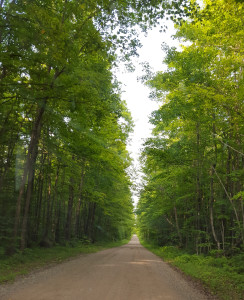 Perhaps many things can be distilled into two paths, two mindsets, two trees in a garden. Robert Frost said there were two paths in the wood and he took the one less traveled by "and that has made all the difference".
This is the way that I wish to travel as well -not in the whoosh of everyday commotion, not by the demands of culture and tradition, and not by popular expectations but by the road less traveled. We have been born into a world tainted by the influence of sin which darkens understanding. However, into that world was born the light of the world. He gives us light that we can see the path of life.
It is there in front of us if we look through a heart of belief.
He is the way.
He is the bread of life.
At first there was a tree of life in a garden where we could live in His love, but we chose the other tree.
Now He provides Himself.  "Jesus replied, 'I am the bread of life. Whoever comes to me will never be hungry again. Whoever believes in me will never be thirsty'." John 6:35
His body is the bread and His blood is the wine. His body sustains, strengthens, and heals us. His blood is the reality of His forgiveness resulting in our perfection, our redemption, our freedom from guilt and fear. This is where we go to live. This is where we find life – hidden in Him, embraced by His love.
If one bite of an apple from the wrong tree derailed all of humanity, one bite of bread with faith in the living Bread of Heaven is more than ample to redirect our lives. Our tree of life has been restored.
Jesus, I choose you.  You invite me to rest from my labors. My future, my hopes, and fears all find their answer in you. As I receive what you have done, I think about how entirely worthy your sacrifice is; how you did not sin; how you were innocent . It is hard to imagine, but your righteousness came to me through what you did. Your battle against darkness defeated all of my opposition and placed me in heavenly places with you. I choose to persuade my heart and mind of this truth and walk in freedom on the road less traveled.
You are my way. Your word lights my path.
"Enter through the narrow gate. For wide is the gate and broad is the road that leads to destruction, and many enter through it. Matthew 7:9